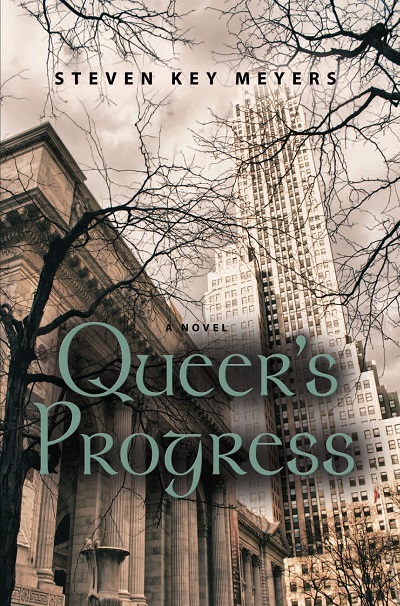 Queer's Progress
A Novel
This autobiographical story of young love features Eduardo, Cuban-born college student and page at the New York Public Library ("just a page, not a whole book or anything"), plus Andrew—a young scholar new to town who falls in love with him—and Ned, older master of gay Manhattan.
As Andrew makes stumbling progress in pursuit of him, Eduardo flies from a pregnant hookup and his mom's Harlem apartment to flop on his oldest friend's floor, his best friend's couch, in Andrew's bed, at the West Side Y, on a patch of Central Park ivy—and in a jail cell or two. Meanwhile Ned's machinations—meant to kick-start his literary career—churn on as Queer's Progress races towards a classic inevitability in a tale by turns savage and urbane, lyrical and drily witty.
Smash-and-Grab Press (revised edition 2021, paper, 204 pp. ISBN 978-1-7330465-3-4; ebook 978-1-7330465-7-2). Cover by Todd Engel.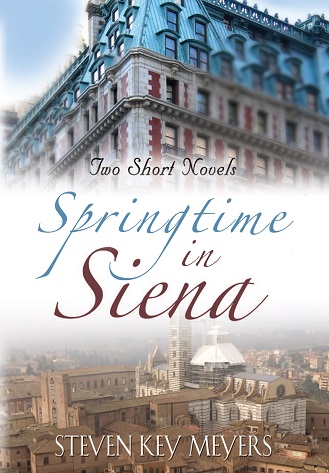 Springtime in Siena
Two Short Novels
Springtime in Siena offers a pair of faux memoirs—period takes on American ways of growing up that rush with verve and wit to opposite endings.
The title piece follows a hungry young academic leading a semester-abroad group to Tuscany in 1974. Gary sleeps with students of both sexes while mulling the coming post-Watergate, post–Viet Nam era. Coldly modifying his voracious appetite, he winds up with everything he's dreamed of—but still hungry.
In The Man Who Owned New York, Albert in 1907 is a new curate at Manhattan's richest Episcopal parish when a Kansas farmer comes to town claiming title to the church's property. The farmer's proofs looking as irresistible as his daughter, Albert weighs what he really wants out of life—and commits a gaudy crime.
Smash-and-Grab Press (revised edition 2020, paper, 196 pp. ISBN 978-1-7330465-4-1; ebook, ISBN 978-1-7330465-6-5). Cover by Todd Engel.
Out of Print, but to be reissued by Smash-and-Grab Press later in 2023:
"The first published examination of the works of Harvey Joiner!" —Indiana Magazine of History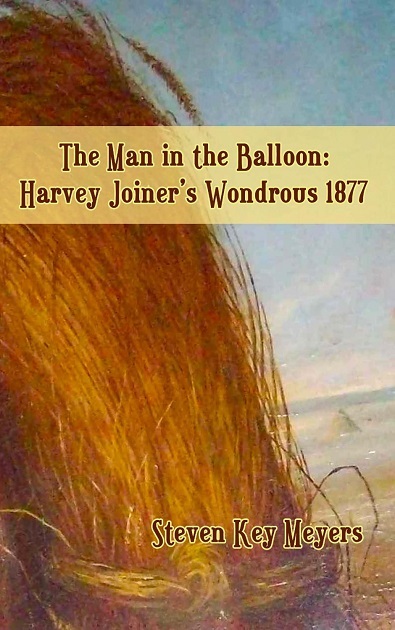 The Man in the Balloon:
Harvey Joiner's Wondrous 1877
This lively biographical study, impeccably researched and copiously illustrated, is the first ever published on the once famous American painter Harvey Joiner.
It brings Joiner to life as a 25-year-old prankster in the rip-roaring river town of Jeffersonville, Indiana. The witty wood-engraved advertising images that occupied him since he was a teenager have ceased to sell, but Joiner's beginning to paint the pictures that will make him famous, especially forest landscapes that filter through personal responses the sunlight falling from their green-leafed canopies. And he promotes himself nonstop, prolifically placing items about himself in local newspapers and hobnobbing with the gentry.
But Joiner will stave off adulthood a little longer with a series of pranks, launching hot air balloons of increasing size, until his masterwork—its basket seen to be carrying a man—soars across the Ohio River and over the rooftops of Louisville, Kentucky.
Before his wondrous year is out, Joiner attracts the commission of a lifetime from the Christian Church of Utica, Indiana and paints his masterpiece, Ruth Gleaning in the Fields of Boaz. Analyzing the complex Bible story about how Ruth achieves security, he places the young widow in harvest fields at day's end, a moment of respite and possibility he makes personal by recalling his widowed mother's dilemma and depicting the very fields of his boyhood.
In The Man in the Balloon: Harvey Joiner's Wondrous 1877, an American painter steps out of the shadows of neglect.
The Educational Publisher, Columbus, Ohio (2013, paper, 126 pp. ISBN 978-1-62249-101-8).
Excerpt (.pdf, 4.35 MB) Author's Note