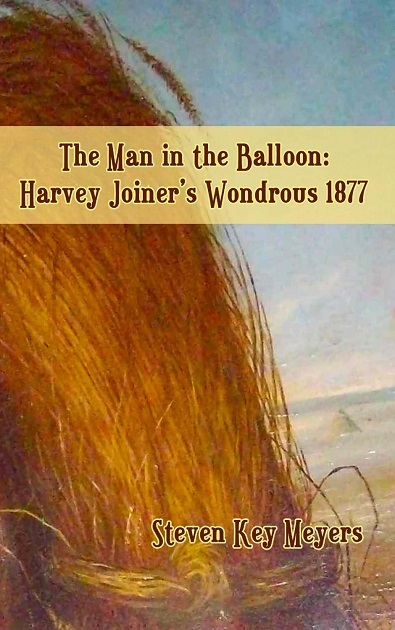 | | |
| --- | --- |
| | |
| Harvey Joiner (1852-1932) | |
The Man in the Balloon:
Harvey Joiner's Wondrous 1877
This lively biographical study, impeccably researched and copiously illustrated, is the first ever published on Harvey Joiner, once a well-known American painter.
It brings Joiner to life as a 25-year-old prankster in Jeffersonville, Indiana, a rip-roaring river town where he finds himself at the crossroads of his career. The witty wood-engraved advertising images that have occupied him since he was a teenager have ceased to sell, and he is beginning to paint the pictures he will become known for, especially the landscapes that, evoking the region's beech groves, filter the light falling from their green-leafed canopies through personal responses and meanings. Moreover, he promotes himself nonstop, placing items about his pictures in local newspapers and hobnobbing with the gentry and painting their portraits.
But Joiner will stave off adulthood a little longer with a series of pranks, launching hot air balloons of increasing size, until his biggest--seen to be carrying a man in its basket--soars across the Ohio River and the rooftops of Louisville, Kentucky.
Before his wondrous year is out, Joiner's teetotal pledge attracts patrons who give him the commission of a lifetime, and he paints his masterpiece, Ruth Gleaning in the Fields of Boaz, for the Utica (Indiana) Christian Church. Analyzing the complex Bible story of how Ruth achieves security, he places the young widow in harvest fields at day's end, a moment of respite and possibility he makes personal by recalling his own widowed mother's dilemma and depicting the very fields of his boyhood.
In The Man in the Balloon: Harvey Joiner's Wondrous 1877, an American painter steps out of the shadows of neglect.
Excerpt (publisher's website) &nbsp
ISBN (paper only) 978-1-62249-101-8
Photo from p.119 Notable Men of Kentucky at the Beginning of the 20th Century (1901-1902), by Benjamin La Bree (Louisville: George G. Fetter, 1902)